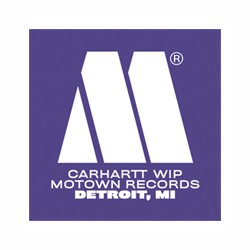 MOTOWN x Carhartt WIP
Coinciding with the 60th anniversary of Berry Gordy Jr. founding the label in Detroit, Michigan, the thirteen-piece cap- sule collection sees Carhartt WIP cel- ebrate the idiosyncrasies of a label that reshaped American culture.
In 1959, after a relative degree of suc- cess writing songs for artists, Mr. Gordy founded Motown Records – a nod to Detroit's motor-manufacturing heritage. He swiftly set about establishing global stars at a remarkable rate; Diana Ross and the Supremes, The Four Tops, Stevie Wonder, The Jackson 5, and Marvin Gaye all passed through the hallowed doors of Motown's humble two-story house-turned-recording studio on West Grand Boulevard.
It is not hyperbolic to say that Motown irrevocably changed the face of American music, in such a way that its in uence can still be felt today. Indeed, Motown didn't simply recon gure what hits of that era sounded like, but it also played an instrumental role in diversifying the airwaves of America's radio stations. This exclusive capsule collection riffs on imagery and ephemera found in Motown's archive and back-catalogue.